A HISTORY OF PROVIDING BRIGHTER FUTURES
What happens to Chicago Public School Special Education Program students after they graduate? Each year as graduation approaches, many prospective graduates of special education high schools show signs of separation anxiety. The school, staff, friends and familiar school programs have been their life for the past four to seven years (disabled students are allowed to stay in high school up to their 22nd birthday). Too many of our members have no plans or have unrealistic ones following graduation. The very thing that most of our members need is a trade school — not just job training but an opportunity to develop marketable skills.
Trade Schools are few and far between, and the community colleges that take our members offer only basic remedial classes. We require a hands-on approach to learning for our members, and trade schools don't exist for them. Many companies, because of societal prejudices, are not willing to take a chance training this group of young adults, assuming it would be a waste of time and money. Statistics have shown that these young people become some of the best of employees. We wanted to do something to ease the transition from high school graduation into, "the real world," so two parents and a special education teacher from Vaughn Occupational High School started our group.
Vaughn & Friends Alumni Association, Inc. now provides a place and time for members to reunite with their friends, discuss the challenges they face, and to help them find purpose and direction for their lives. They have much to give the world, but the opportunities are few. The majority of our members live at or below the poverty level, and the nature of their disabilities will likely keep them there. The jobs available to them are part-time, minimum wage jobs. If they collect Supplemental Security Income, every dollar they earn is taken out of their SSI payments. This monthly check could not possibly provide for housing, transportation, food, clothing, and the necessities of life. If they qualify, they may collect Medicaid in place of private health insurance. It would be ideal if they had parental help all of their lives, but many don't have it at all and none will have it as they grow older. We now strive to help each member live independently.
We offer a Career Development Class to teach basic computer skills class every Tuesday Afternoon from 3:00 - 5:00 at the Austin Irving Park Library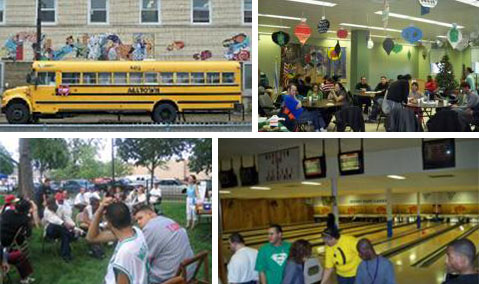 MEMBERS & VOLUNTEERS
Vaughn & Friends Alumni Association, Inc. is now into the 17th year as a nonprofit, charitable organization. Our dues are $20.00 annually per member, and we have four special events, three parties, one picnic and six business meetings within each 10-month "year."
Thirteen years ago we gained tax-exempt status and became a corporation. Every student who graduates from Vaughn Occupational High School and anyone graduating from a special education program within the Chicago area can join us. To become a member, please fill out an application. Dues must be paid annually, and members must participate in meetings, special events, and fund-raising.
JOIN US
If you think you are interested in joining us, visit one of our meetings as a guest. You can meet the members and decide for yourself if this is for you! Meeting schedules will be posted by the first week of September.
VOLUNTEER
We are always looking for volunteers with a background or special skill or training that can benefit our members. Whether you have formal training or years of practical experience, we would be interested in speaking with you.